Who are we?
Vantage Group is proud to be recognised by the Tasmanian Government as an Employer of Choice, for demonstrating contemporary workplace practices and outstanding support for our staff.
With operations spanning hospitality, retail and all associated business functions, Vantage Group offers a variety of hospitality, retail and business support positions. In our pubs roles include food & beverage attendants, bar & gaming attendants, cooks, chefs, apprentices and kitchen hands, and managerial/supervisory roles. Our Bottleshop positions include retail sales attendants and managerial/supervisory roles.
Vantage Group employs a diverse range of people, including retail and hospitality professionals, students seeking casual work and those looking for a career change or a balance of work and family commitments. We are an equal opportunity employer who promotes fair access to all opportunities and we value respect, tolerance and diversity. Vantage Group is strongly committed to the safety and wellbeing of our staff and customers.
What we offer as an employer
As an Employer of Choice we offer our employees contemporary workplace practices, great staff benefits and outstanding support within the workplace.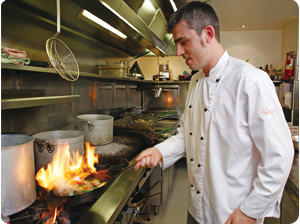 Career Pathways & Development
With a portfolio of 11 pubs, 15 retail liquor stores and head office operations, Vantage Group employees have access to numerous career opportunities. We encourage and provide development and training that enhances capability and leads to career pathways within the organisation and beyond. We offer:
Casual and permanent full time and part time positions
In-house training including Induction, Customer Service and CrimSafe for all staff
Opportunities to participate in employer-funded VET training in Hospitality and Retail
Dedicated, tailored training for Retail and Hotel Manager and Hotel Duty Managers
Community Support
As part of our strong commitment to the communities we operate in, Vantage Group has established an employment partnership with Whitelion, a not-for-profit organisation providing specialist services to at-risk youth, with the purpose of providing meaningful job experiences to young Tasmanians. Vantage Group can offer successful Whitelion candidates the opportunity to participate in paid job placements, with the potential of further employment post the job placement period.
Health & Wellbeing
We understand that work is only one part of our employees' lives and we support and encourage the health and wellbeing of staff through:
A commitment to providing a healthy and safe workplace for every employee
An organisation-wide Health and Wellbeing Program for all staff
Flexibility of different shift patterns to fit around your study, sporting or family commitments
Employee Assistance Program for staff and their family members
Free flu vaccinations for all staff
Gym membership discounts
Private health fund benefits
Rewards and recognition
At Vantage Group we offer extensive staff benefits to show our appreciation for the contributions our employees make to the organisation, such as:
Years of Service Awards
Hotel and bottleshop uniforms
Discounts on accommodation, meals and experiences at Federal Group properties for staff and their family members
Discount at 9/11 bottleshops
A range of external discounted products and services including car hire, telecommunications, banking/financial services, retail purchases and dry cleaning services.
Who are you?
Vantage Group has a strong focus on providing outstanding customer service, to set us apart from our competitors.
We therefore look for employees who can offer our customers an exceptional experience in our community pubs and retail liquor stores.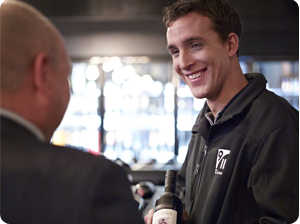 To gain employment with Vantage Group, you will have:
Outstanding customer service skills
Exceptional interpersonal and communication skills
An enthusiastic, motivated and positive approach to your work
Well groomed personal presentation
Reliability and the ability to work a variety of shifts, including night and weekend work; and
A current Responsible Service of Alcohol (RSA) Certificate
For gaming positions ideally you will have a current Tasmanian gaming (special employee) licence and have undertaken a Responsible Conduct of Gaming (RCG) course.
If you believe you have ALL of the skills and attributes listed above then apply today via the Job Search page.
FAQ
"How long will it take to be contacted after I have submitted my application?"
If you have applied directly for a vacant position you will receive an acknowledgement email as soon as you submit your application. Following this, you will be contacted within a 6 week period depending on what stage of the recruitment process your application progresses to.
If you have applied directly to the 'General Application' database you will receive an acknowledgement email as soon as you submit your application. Following this, you will be contacted by HR if your application has been assessed as suitable for a vacant position within the business.
"Will I be contacted if I am unsuccessful for a position?"
Yes. All applicants who submit an application for a position (excluding the 'General Applications') will be notified by HR of the outcome of their application. Depending on what stage of the recruitment process your application progresses to, you will be contacted by HR either by email or telephone, using the contact details provided in the application.
If you have not been contacted regarding the outcome of your application, please feel free to contact HR on 6214 7911 or email careers@vantagegroup.com.au.
"Can I email/mail my resume instead of applying online?"
No. You must submit your application online via the Vantage Group Careers website on the Job Search page.
If you experience technical difficulties when applying via the website, please contact HR on 6214 7911 or email careers@vantagegroup.com.au for assistance.
"How do I apply for a position with Vantage Group if there are no current vacancies advertised?"
You can submit an application to the 'General Application for Vantage Hotel Group' and/or the 'General Application for 9/11 Bottleshops' advertisements on the Job Search page.
The benefit of applying to the general application database is that prior to advertising a vacant position the database is searched for suitable applicants and in many cases positions are filled without the need for advertising.
"Can I apply for more than one position advertised?"
Yes. Vantage Group strongly encourages applicants to apply for any advertised positions that meet your skills and experience.
"Can't find the answers to your questions?"
Please contact HR on 6214 7911 or contact our Recruitment Consultant on careers@vantagegroup.com.au.
Job search tips
First impressions count! Remember that from the moment you establish contact with Vantage Group you are being assessed as a potential employee for our business. Be polite, friendly and on time.
Read the advertisement carefully and complete the application requirements as detailed in the advertisement. For example, if the advertisement asks you to attach a cover letter please do so. If you do not follow the application requirements as detailed in the advertisement your application may not be eligible for consideration to the relevant position.
Please ensure you provide two current professional referees on your resume. Current referees must be individuals you have directly reported in to in an employment capacity within the last 12-18 months. Reference checks are conducted over the phone, therefore a current phone number must be listed with the referee's name and organisation. Personal referees will not be accepted.
Provide as much detail as possible around your availability on the application form. Please indicate the hours you can actually work, taking into account your current commitments, i.e. university, sport, family commitments.
Due to the nature of our hospitality and retail businesses we operate 7 days a week and require our staff to have the ability to work a variety of shifts across a 7 day rotating roster, including nights. Before submitting an application please consider if these hours of work suit you.
Regularly update your account and any application(s) submitted to Vantage Group Careers. This will enhance the compatibility of your application(s) and the position(s) HR have deemed you suitable for.
The majority of communication from Vantage Group Careers will be sent via email. Therefore, please ensure your email details are correct on your Vantage Group Careers account and check your emails regularly.
If you no longer wish to be considered for positions you have applied for, including the 'General Application' database, please logon to your account and withdraw your application(s). This will ensure you no longer receive any unwanted emails or communication from Vantage Group Careers.